Some helpful news (and resources) you can use.
The Business of Health Advocacy
From: The Arizona Daily Star |

July 30, 2012
In her 44 years of nursing, Karen Mercereau has seen more than one patient die a premature death. She cites medical errors, missed diagnoses, and inaccurate medical charts as the cause. What those patients needed was a knowledgeable voice, she says." It doesn't matter if the record is electronic or paper - no one has time to read beyond the major points," says Mercereau. "Ask any nurse. We all know the system is broken. Doctors rarely have the opportunity to talk to one another."
Patient Advocates: The Coach in Your Corner for Taking on the Health Care System
From: Nerd Wallet | January 21, 2016
he doctor is recommending tests that do not seem necessary, the hospital charged you $20 for that Tylenol you took during your stay—and what can you do about it? Whether in the hospital or opening your bill afterward, it's easy to feel helpless against the enormous health care industry. Luckily, there are passionate professionals whose job it is to help patients navigate the health care jungle.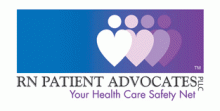 RN Patient Advocates, our affiliate partner, is the national leader in RN patient advocacy education, training and professional development.
All Health Manager RN advocates have completed the RN Patient Advocate learning intensive.This learning intensive is the only program of its kind developed by and for clinical RNs. It is an advanced and comprehensive education program that equips graduates with the skills and tools needed to practice as independent RN Patient Advocates.
TESTIMONIALs
​
[My advocate] is both compassionate and detail oriented; the perfect mix for a nurse and an advocate! She quickly absorbed my background and goals for the medical history project and produced a meticulous timeline and other materials that have proved invaluable in establishing a new medical network in my home.
​
Portland, OR
07/06/2020
​
__________________________________________________
​
I really appreciated the support and guidance I received both for myself and my family. It put us all at ease to have an advocate in our corner. This made a huge difference in my ability to advocate for myself and to navigate what I was going through.
​
Portland, OR
06/05/2020
​
__________________________________________________
​
My nurse advocate has been invaluable to my husband and me in finding appropriate care and placement for my sister who is suffering from advanced Parkinson's Disease. She reviewed and commented on every suggested treatment option and referred us to appropriate professionals for further assistance.
​
Portland, OR
05/25/2020